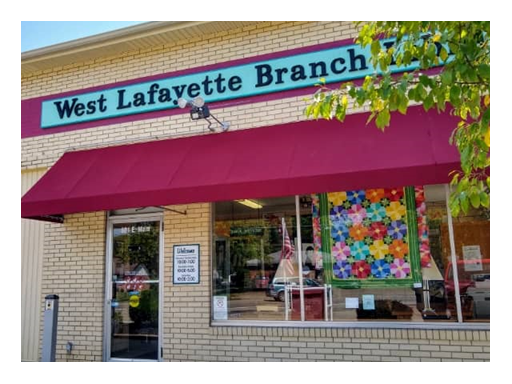 The West Lafayette Branch Library, located in the village of West Lafayette, Ohio, is a full service branch of the Coshocton Public Library. Whether you are looking for books, movies, magazines, newspapers, eBooks, digital audiobooks, internet computers, free Wi-Fi, faxing, or just a quiet place to relax and read, the West Lafayette Branch is the place for you. Stop in at the Branch library and see all we have to offer.

From its opening in 1936 to its current location today, the West Lafayette Branch Library is a community landmark with a friendly and dedicated staff, serving the citizens of West Lafayette, eastern Coshocton County, and surrounding areas with resources and enrichment opportunities for lifelong learning.
Branch Programs - Learn about programs offered for adults, teens, and children.
Events Calendar - Special programs are scheduled throughout the year. For a variety of enriching and fun programs, please see the full events calendar.
Branch History - Read the full history of the West Lafayette Branch Library along with historical photos.
Location:
West Lafayette Branch Library
601 E Main Street
West Lafayette, OH 43845
Phone: (740) 545-6672
Fax: (740) 545-6418
Hours of Operation:
Monday-Wednesday | 10:00 a.m. - 7:00 p.m.
Thursday-Friday | 10:00 a.m. - 5:00 p.m.
Saturday | 10:00 a.m. - 3:00 p.m.
Contact Information:
Branch Manager: Andrea Schweitzer Smith
Email: wlbranch@coshoctonlibrary.org
Links:
Find Us on Facebook
AR BookFinder™
Branch Calendar of Events
Coshocton County Beacon
Coshocton Tribune
Ohio Digital Library
Research Databases
Ridgewood Schools
Village of West Lafayette
West Lafayette Chamber
WL Branch Mobile Printing