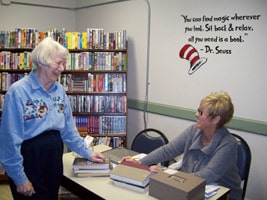 Books Galore Book Store is located in the basement of the Coshocton Public Library. You'll find books, DVDs, CDs and more, all at bargain prices. Books Galore is run entirely by volunteers from the Friends of the Library.  

Hours are: 
Monday: 3:00 p.m. - 6:00 p.m.
Wednesday: 10:00 a.m. - 1:00 p.m.
Saturday: 10:00 a.m. - 1:00 p.m. 

If you're looking for a bargain, Books Galore is the place to find it!
The Friends of the Library accept donations of gently used books and magazines. Books may be brought into the library or taken to the Book Store. Books in suitable condition for sale are welcome, but please, if you wouldn't buy it, don't donate it.
The Book Store is especially in need of Westerns and nonfiction; however, encyclopedias more than ten years old cannot be accepted.